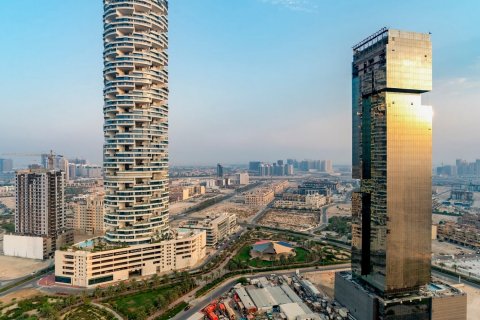 Jumeirah Village Circle (JVC) is a popular residential area in Dubai known for its unique architecture and community-centric design. The community's architecture combines a mix of Mediterranean and Arabic influences, creating a distinct and visually appealing aesthetic.

Jumeirah Village Circle Dubai features a variety of architectural styles that contribute to its diverse and vibrant atmosphere. The villas, townhouses, and apartment buildings in JVC display elements such as arched windows, decorative facades, and intricate detailing that reflect a blend of traditional and contemporary design. This fusion creates an attractive and harmonious visual landscape throughout the community.

One of the key reasons for Jumeirah Village Circle community's popularity is the emphasis on creating a family-friendly environment. The community offers a range of housing options suitable for different family sizes and budgets, making it an inclusive and accessible residential area. From spacious villas with private gardens to cozy apartments, JVC caters to diverse needs and preferences, attracting residents seeking a comfortable and convenient lifestyle.

JVC's architectural layout focuses on creating a sense of community and promoting social interactions among residents. The community features landscaped parks, playgrounds, and recreational areas, encouraging outdoor activities and providing spaces for families and neighbors to come together. Additionally, the community's walkways and jogging tracks offer opportunities for residents to engage in a healthy and active lifestyle.

JVC also boasts a range of amenities and facilities designed to enhance the living experience of its residents. These include community centers, fitness centers, swimming pools, and retail outlets within the community, ensuring convenience and accessibility to essential services and recreational activities. Jumeirah Village Circle rent is notoriously affordable in comparison to communities that are similarly situated.

Amenities in Jumeirah Village Circle :

Jumeirah Village Circle (JVC) is divided into several sub-communities, each with its own distinct character and features. These sub-communities are smaller residential clusters within the larger JVC development. They offer a sense of identity and community within JVC. While the exact number of sub-communities may vary, some of the well-known sub-communities within JVC include:

Districts: JVC is divided into six main districts, namely District 1, District 2, District 3, District 4, District 5, and District 11. These districts comprise a combination of villas, townhouses, and apartment buildings, with each district having its own unique layout and style.

Nakheel Developments: Nakheel, the master developer of JVC, has introduced sub-communities within JVC such as Jumeirah Village Triangle (JVT) and Jumeirah Village Circle Villas. JVT is located adjacent to JVC and offers independent villas and townhouses with a separate identity but connected to the larger JVC community.

Other Developments: Several developers have also introduced their own sub-communities within JVC, each with its own distinct name and architectural style. These sub-communities often consist of apartment buildings or townhouse clusters developed by individual companies.
Amenities at Jumeirah Village Circle
Pictures of Jumeirah Village Circle
Dubai's most desirable destination.
Jumeirah Village Circle is located only 15 minutes away from Dubai's major social hubs and amenities.
Popular Properties
Properties in Jumeirah Village Circle