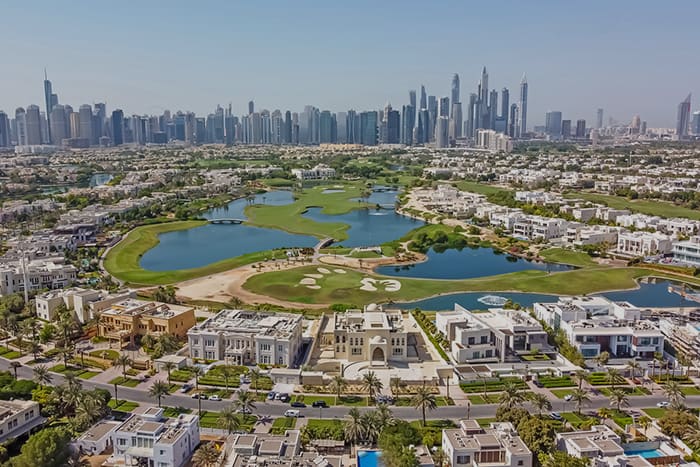 Emirates Hills is an exclusive residential neighbourhood in Dubai, United Arab Emirates. The neighbourhood is well-known for its magnificent architecture, affluent lifestyle, and lush green environs. Emirates Hills villas are created with both contemporary and classical aspects, providing a great balance of modern and traditional living.

Emirates Hills is ideal for people who appreciate the finer things in life. It is a peaceful neighbourhood that provides a high level of life with cutting-edge facilities. The neighbourhood is suitable for families, professionals, and individuals looking for peace and quiet.

Emirates Hills has a lot to offer in terms of leisure and entertainment. The Address Montgomerie, an 18-hole championship golf course built by Colin Montgomerie, is located in the neighbourhood. The golf course is accentuated by lush greenery and provides locals and tourists with a one-of-a-kind golfing experience.

The Montgomerie Golf Academy is another popular attraction in Emirates Hills, where people may polish their golfing talents or learn to play the sport. Private classes, group sessions, and younger programmes are all available at the academy.

Emirates Hills is especially well-known for its close proximity to renowned tourist attractions such as the Palm Jumeirah, Dubai Marina, and the Mall of the Emirates. Residents can explore the many shopping, eating, and entertainment opportunities available in these locations.

Amenities in Emirates Hills Dubai Community The neighbourhood provides a range of high-quality amenities to meet the demands of its inhabitants and provide them with a pleasant existence. Some of the most popular facilities in Emirates Hills Dubai are:

Golf Course: The Montgomerie Golf Course, located in Emirates Hills, is one of the most popular golf courses in Dubai. Colin Montgomerie developed the course, which offers golf aficionados a thrilling challenge.

Parks & Green Spaces: Emirates Hills has a number of parks and green spaces, which provide inhabitants with a tranquil setting in which to relax and enjoy nature. The Springs Souk Park, The Meadows Park, and JLT Park are the most popular parks in Emirates Hills.

Emirates Hills is well-known for its upmarket retail and eating options. The Springs Souk, a prominent shopping destination, and a number of high-end restaurants and cafés, including Cafe Bateel and The Cheesecake Factory, are located in the town.

Wellness: There are several exercise and wellness alternatives in Emirates Hills Dubai, including gyms, yoga studios, and spas. Emirates Hills Fitness Centre and Fitness First are two of the most popular fitness centres in the area.

Security: Emirates Hills is one of Dubai's most secure residential neighbourhoods, with 24-hour security and CCTV monitoring. To protect the safety of inhabitants, the neighbourhood has a guarded entrance and is monitored by security officers.
Amenities at Emirates hills
Pictures of Emirates hills
Dubai's most desirable destination.
Emirates hills is located only 15 minutes away from Dubai's major social hubs and amenities.
Popular Properties
Properties in Emirates hills