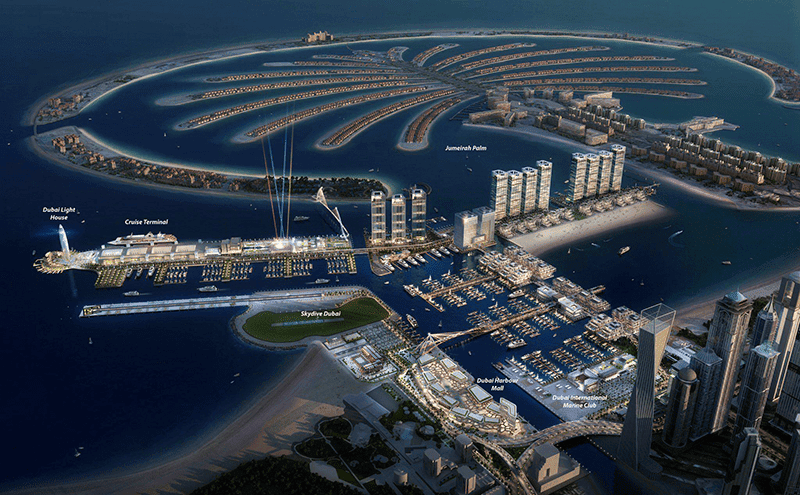 The stunning Dubai Harbour illustrates Dubai's plan to transform waterfront living. Dubai Harbour is quickly becoming a hotspot for both tourists and locals thanks to its breathtaking scenery, high-end amenities, and convenient location.

Dubai Harbour is the only place to live that puts you within walking distance of both the Palm Jumeirah and the magnificent Jumeirah Beach Residence. The magnificent waterfront development blends maritime and onshore lifestyles to create a dynamic and exciting community with unrivaled amenities for its residents.

The cutting-edge Dubai Harbour Cruise Terminal is a major attraction in the harbor. There will be a dramatic increase in maritime tourism as a result of this facility. The terminal is an important starting point for tourists exploring the emirate, as it is built to receive large cruise ships and provides first-rate facilities and services tailored to the requirements of foreign cruise guests.

Dubai Harbour, located next to the bustling Dubai Marina, provides its residents with a tranquil setting and breathtaking views of the Arabian Sea and the city's cityscape. High-rise apartments with waterfront views have made Dubai Marina Harbour a trendy urban destination. All the amenities of the city, including the marina's picturesque scenery filled with yachts, are within walking distance for residents.

The apartments in Dubai Harbour are well-known for their cutting-edge architecture and high-end features. These houses represent the peak of opulence, from luxurious flats to magnificent villas. Fitness centers, swimming pools, and rooftop decks are just some of the amenities that make this region so desirable to live in.

More than just a place to relax, Dubai Harbour promotes an active way of life among its residents. Jogging and cycling paths, beach clubs, and other recreational facilities give locals the chance to get out and take advantage of the area's picturesque waterfront location.

When it comes to getting about town, Dubai Harbour has you covered. Dubai Harbour is ideally located for working professionals due to its proximity to public transportation and major roadways.

In sum, Dubai Harbour is the pinnacle of comfort and ease of access. It provides a comprehensive lifestyle that meets the needs of a wide range of people because to its convenient location, high-quality apartments, lifestyle amenities, and maritime facilities. Whether you're a local looking for a quieter way of life on the water or a tourist curious about Dubai's maritime attractions, Dubai Harbour is sure to captivate you.


Amenities at Dubai Harbour
Pictures of Dubai Harbour
Dubai's most desirable destination.
Dubai Harbour is located only 15 minutes away from Dubai's major social hubs and amenities.
Popular Properties
Properties in Dubai Harbour